Welcome to
Burt's Pharmacy and Compounding Lab
The team at Burt's Pharmacy and Compounding Lab is committed to focusing on patient care. Burt's Pharmacy and Compounding Lab has been serving our community for over 40 years. We are next to the Newbury Park Library.
As a member of one of the nation's largest network of pharmacies, Burt's gives you the best of both worlds: the attention and courteous service you deserve with the preferred pricing, products and medication options you need.

Prescription Dispensing
Burt's Pharmacy and Compounding Lab offers full service prescription dispensing service. Most prescriptions are filled in 10 minutes or less.

Competitive Prices
Expect the same insurance co-pay as your local pharmacy. Burt's Pharmacy and Compounding Lab will meet or beat your prescription price.

Accept All Insurance Plans
It's FREE and EASY to transfer your prescription – Just call us or bring in your prescription bottle – We will take care of the rest.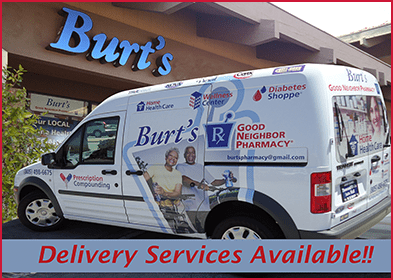 Delivery to your home or office
We offer door-to-door delivery of prescriptions, over the counter products, or medical equipment. We can also mail out your prescriptions to anywhere in the USA for a small fee. *Find out how to get free delivery on your prescription.
Your Partner In Care
Assist in management of your health through education, specialty products & services. Wellness Center with specialty items for patients with diabetes and wide selection of orthopedic shoes.
Private Consultations
Please sign up for a private consultation on health presecription matters with the pharmacist. The pharmacist is also available to consult with you about topics such as drug interactions and nutrient depletions. Ask to make an appointment.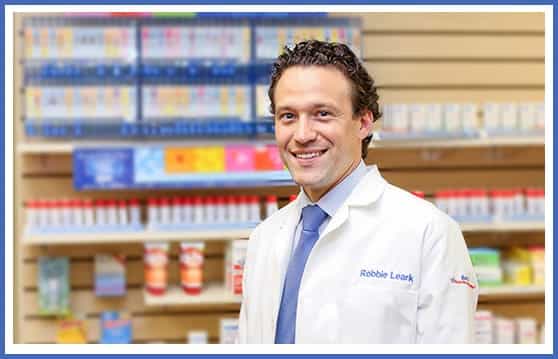 Testimonials
"As a health care provider, Burt's Pharmacy is the primary pharmacy that I recommend to my patients. They are always helpful and kind with my patients and I trust the pharmacist implicitly. I do a lot of compounded medications for my patients and Burt's is the best in the area. I can't recommend them more highly and use them for my entire family!!"
Westlake Village