Welcome to
Burt's Pharmacy and Compounding Lab
As your Good Neighbor Pharmacy, we're committed to helping you achieve your health care goals. From treating everyday conditions to achieving personal wellness, our talented and compassionate pharmacy care team members can answer your questions and find solutions that fit you like a glove.
With over 40 years' experience serving the local community, we understand what Newbury's patients need most. Benefit from everyday low prices, in-house compounding services, preferred pricing, easy access to medical supplies, and friendly, supportive staff that are always just a phone call away.

Prescription Drugs
Burt's Pharmacy has over 40 years of experience helping patients just like you access, understand, and utilize their medications. We dispense in 10 minutes or less!

Value and Savings
Low prices and value matter; that's why you'll always have the same insurance co-pay at Burt's. If you find a lower price, we'll match it or beat it to save you money.

Easy Insurance Billing
Transferring to Burt's Pharmacy and Compounding Lab is easy and FREE! Bring in your prescription and insurance info. We'll bill your insurance company directly.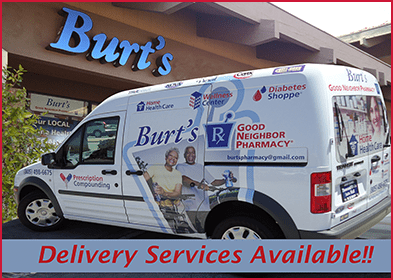 Delivery to your home or office
We offer door-to-door delivery of prescriptions, over the counter products, or medical equipment. We can also mail out your prescriptions to anywhere in the USA for a small fee. *Find out how to get free delivery on your prescription.
Your Partner In Care
Assist in management of your health through education, specialty products & services. Wellness Center with specialty items for patients with diabetes and wide selection of orthopedic shoes.
Private Consultations
Please sign up for a private consultation on health presecription matters with the pharmacist. The pharmacist is also available to consult with you about topics such as drug interactions and nutrient depletions. Ask to make an appointment.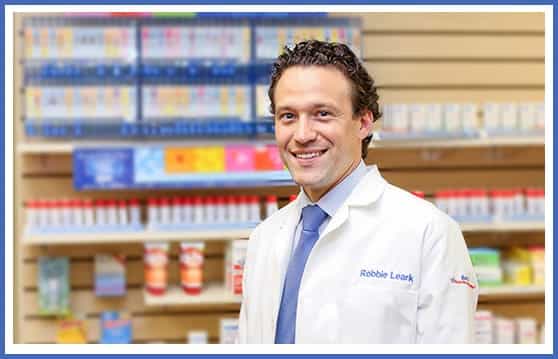 Testimonials
"As a health care provider, Burt's Pharmacy is the primary pharmacy that I recommend to my patients. They are always helpful and kind with my patients and I trust the pharmacist implicitly. I do a lot of compounded medications for my patients and Burt's is the best in the area. I can't recommend them more highly and use them for my entire family!!"
Westlake Village